OHB Digital GIDAS Portable
OHB Digital's GIDAS Portable Solution is a revolutionary GNSS quality assurance system that enables a live view of GNSS health and quality wherever needed. Designed to be rapidly in temporary deployments and any weather, GIDAS Portable is an optimal choice for law enforcement personnel, traffic and road operations teams, and security professionals.
The GIDAS Portable from OHB Digital is a cutting-edge system that offers complete autonomy and portability, allowing you to monitor GNSS conditions in real time wherever needed. GIDAS Portable is the ideal solution for temporary installations and portable use. Its advanced detection and classification capabilities can quickly identify jamming and spoofing signals. Whether you need a standalone system or a mobile monitoring sensor to complement GIDAS Stationary, GIDAS Portable is the perfect solution. Define and efficiently distribute custom alerts across multiple platforms, such as the GIDAS user interface and email.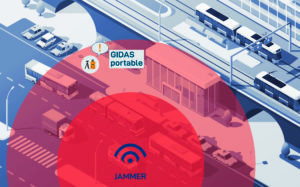 Specifications
Supported satellite constellations: GPS, Galileo, GLONASS, Beidou, QZSS, SBAS / EGNOS
Supported signals: all civilian GNSS signals (e.g., L1/L2/L5, E1/E5ab, G1/G2, etc.)
Bandwidth: up to 68 MHz
Resolution: up to 2×12 bit (complex)
Operating system: Windows / Linux
Web-based user interface
Jamming detection
Spoofing detection
Power supply: 230 VAC
Case: Peli 1535 Air, 558 x 355 x 228 mm, IP65 & MIL-SPEC certified
Components
Dual-module GNSS antenna
Rugged and IP-rated operator tablet (with the GIDAS software)
All required cables
packed within a waterproof IP-rated, portable case
Maintenance & Premium Support (* conditions applied)